Types of  Monuments –  Flat Grass –  Bronze – Slant – Upright – Pillow
Flat Grass Headstones

Flat Grass Headstones and Grave Markers: (Single , Companion  or Children Designs)  are the simplest and least expensive of all memorials. Usually flat markers are rectangle in shape. Unique memorials can be created by choosing special cut designs. Most cemeteries regulate the size and sometimes the color or design engraved on the marker. Cemeteries that have exclusive flat markers section will require a flat marker for those.
Upright Monuments
Upright Monuments: provide the most comprehensive memorial design choice. Upright monuments usually have at least two pieces- the tall and standing upright piece is called a Tablet and the low lying granite piece is called a Base. Usually an upright monument is set on either a concrete foundation or a granite foundation.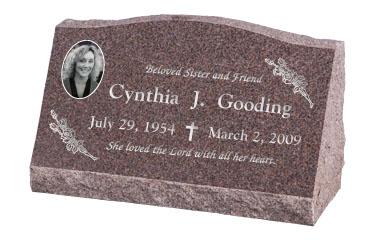 The Slant Marker sits in an upright position and gives the appearance of the more expensive upright without the high cost. The Slant Markers come with a polished face, and have rock pitched edges .
The Bevel Marker is much like the Flat Marker. Bevel Markers lay flat on the ground and have a slanted face to give a small upright appearance. Our Bevel Markers have a polished face and rock pitched edges